BOYS CAMP (2ND GRADE THROUGH 8TH GRADE)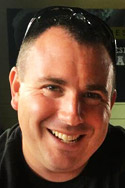 Mike Levy – Director
Spring Lake has been Mike's summer home for 9 years, starting as a baseball specialist for the first 2 years and then joining Boys Camp as a Group Leader for our 2nd grade boys for 6 years. Last summer Mike assumed the position as Director of Boys Camp and we again look forward to his leadership as well as his energy and love of camp spirit this coming summer! Mike is always found joining his campers in games and activities on and off the fields. The boys and his staff love it! Mike graduated from University of Maryland with a B.A. degree in History, and has his Masters in Education in Social Studies from Rutgers University. He has been a teacher for 15 years and has been at Wayne Hills High School for 12 years.

Neil Shechtman – Group Leader
Neil came to Spring Lake Day Camp fourteen summers ago and has been a part of Boys Camp from the onset, working initially with Boy's Mid Camp groups and then moving to Upper Camp to supervise the oldest boys' groups. Neil has his B.S. degree in Accounting from the Bach School of Business at the University of Massachusetts, his M.A. in Elementary Education from Columbia University and has been an elementary grade school teacher throughout his career. Neil has had camp in his blood since he was a young boy, and has worked at day camps most of his teen and adult life in several administrative positions. He invests his heart and soul into his campers, has no reservations about dressing up on theme days, and it is obvious to everyone that he just loves every day at SLDC!

Ethan Grubman – Group Leader
This will be Ethan's fifth summer working at SLDC as Group Leader for Boys Camp and we are so happy to have him be a part of our SLDC family! Ethan has always been around camps, starting as a camper at age 6 and working as a counselor/group leader in various day and sleep away camps. Ethan received his B.A. degree in Mathematics in 2007 from the University at Albany and his M.A. degree in Educational Leadership in 2013 from Montclair State University. He has been a High School Math Teacher for 12 years, the last 11 of them at Midland Park High School. Ethan is very energetic and passionate about everything he does. He truly enjoys his days with his campers, counselors and fellow administrators. When outside out of work, Ethan can often be found on the diamond playing softball, spending time with his adorable little daughter, solving riddles/brain teasers, and traveling!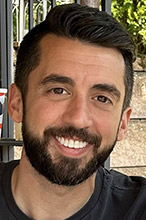 Justin Swisher – Group Leader
Justin will be with us for his third summer at Spring Lake Family and we are thrilled to have him back! He spent his first summer with us as a member of the Adventure Challenge Team, which is fitting for who he is! He has gone skydiving, spends most weekends hiking, and can't get enough of sports and the outdoors. He had been at another New Jersey camp for many summers where he began his tenure as a "Rocks and Ropes" specialist for three years. He then worked at the camp as a Division Leader for the next six years. Camp is easily Justin's favorite part of the year and you'll find him trying to make each day even more fun than the day before! Justin is a graduate of nearby Ramapo College, has nearly a decade of teaching experience in a local middle school, and is currently pursuing an M.A. in Educational Leadership. He could not be more excited about returning again as a Group Leader for the Broncos in Boys Camp!
Allison Evangelista – Group Leader
Allie will be returning for her second summer at SLDC as a group leader for our Eagles! Let's go Eagles! Allie has been a Health and Physical Education teacher at Fort Lee High School for 4 years, and has been coaching their girls' soccer and basketball teams as well. She is also the advisor for the Students Against Destructive Decisions club. Allie graduated from Coastal Carolina University in 2010 with a B.A. in Fitness and Recreation and is planning on completing her M.A. in School Counseling. She loves watching her students succeed on and off the field and always goes above and beyond to help them reach their goals. When not teaching or coaching, you can find Allie at a Giants game or at Yankee Stadium, hiking with her dog and rafting down the Delaware! We welcome Allie and know she will bring a great energy and commitment to our Eagles as they transition into Boys Camp!
---

Lori Kleinfeld – Leadership Training Program Supervisor
Lori's bright smile is what starts our day off right every morning as she welcomes our campers and staff off the busses! Lori has been with SLDC for 17 years, with this coming summer being her 11th summer supervising our successful and well run Leadership Training Program. She had also been our Van Staff Supervisor for many years and our Camp Mom for several years. Lori has her B.A. from Montclair State University in Family Child Relations and Pre-K Certification as well as her Kindergarten through 8th grade endorsement from William Paterson University. She had been a teacher in Englewood and Paterson earlier in her career, and has been a teacher in the Fair Lawn school system for the past 18 years. Our Leadership Training Program is a well-known work-camp-trip program that provides a strong foundation for learning leadership skills and the responsibilities of being a staff member. Lori's tutelage and supervision has been the backbone of its growth and success.

Betsy Greene – Junior Training Program Supervisor
Betsy has been our JTP supervisor for the past three summers. Betsy attended camp as a child at West Hills Day Camp in Long Island and from an early age knew exactly how she wanted to spend her summers. She continued her love for camp as a counselor, group leader, aquatics director and youth director. The incredible memories and experiences at camp inspired Betsy to share her passion with children as an educator. She has her BA in Physical Education and Masters in Health Education, both from Adelphi University. Betsy has been teaching Physical Education for the last 5 years. She has also supervised the school's dance team and spearheaded the school's "Mighty Milers" running club. Interestingly, Betsy also has culinary training from the Institute of Culinary Education and has worked as a pastry chef at several restaurants in New York City. In her spare time, she loves spending time playing with her new daughter Charlie and trying new restaurants with her husband.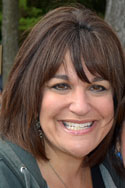 Julie Calabro – Camp Mom
Julie's bright smile and warmth has been a fundamental part of our camp for 17 years. Everyone at camp knows Julie, and Julie makes it a point of knowing every one of our campers and counselors as well! Julie was at SLDC as our cooking specialist from 2000 to 2006 and what a popular specialty area it was! When she came back to us in 2009, she became our Camp Mom, and she has been the ideal person to oversee all aspects of our campers' personal care and dietary needs during lunch as well as the rest of the day. Julie has her B.A. from University of Maryland and had worked as both a Preschool Teacher and a Religious School educator for many years. She is currently working in the Kinnelon Schools system. She has always been a strong link in our camp family, able to create a special connection with both campers and staff that is such a significant component of our camp's success.

Connie Kilroy – Head Nurse, Health Center
Our state of the art Health Center houses our staff of highly skilled and professional nurses who take care of our campers and staff every day. Connie will be with us at SLDC for eleven summers, supervising the Health Center for her seventh summer. She also is one of the nurses who accompany the campers on our Optional Adventure Travel Program. With a BA from Fordham University, and a BSN from College of Mt. Saint Vincent, Connie offers our camp the perfect blend of nursing and management skills as well as the necessary tender loving care to make everyone at camp feel better. Connie had worked in the NICU for St. Joseph's Hospital in Paterson and as a substitute nurse in The Children's Institute and the West Milford school system. Now employed full time with the Academy 360 Upper School in Livingston, Connie has surely been no stranger to pediatric care and treatment. Connie is also in the midst of receiving her School Nurse Certification. We know we are ALL in good hands with Connie and her nursing team.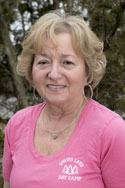 Linda Petro – Transportation Director
Linda Petro has been with SLDC since we opened our doors in 1989. With over 40 years of experience as manager of various bus companies including D&K Transportation and Murphy/Durham Bus, Linda has been an instrumental part in making each SLDC camper's ride to and from camp every day so enjoyable. Over the years many of our parents have spoken to Linda as she has always gone out of her way to make sure she could accommodate all campers and staff's transportation needs. Linda is in charge of routing all the SLDC buses prior to the first day of camp and Daily Transportation and Parent Transportation Communications during the summer. We understand that camp begins when the children are picked up in the morning and ends when the children all return safely home at the end of the day. Please note we only use air conditioned mini buses, professional drivers and each bus has at least one van counselor to supervise the bus. Parents will get the cell phone number of the van counselor and all buses are equipped with base station radios.