Our Administrative Team
Our Administrative team at SLDC is unlike any other. From the camp's inception in 1989, we have shared the same vision of what our camp family should be, with the understanding of how a positive camp experience can influence a child's sense of well-being and self-esteem. We work passionately to provide a safe, stimulating and well-rounded program each and every summer, enriched with activities and Spring Lake traditions that foster a strong self-image, social relationships, and skill development, all infused with fun, laughter and spirit. With most of us having worked together for so many years, we are a strong, creative and cohesive unit that continuously strives to make Spring Lake Day Camp the best day camping experience available.
Many of our Directors and Division Leaders have watched our own children grow up and experience the wonders of SLDC, mature and continue to work at the camp each summer, giving their campers the same wonderful "TLC" they had throughout the years. The word "family" truly describes what we are at our core, with campers never wanting to be anywhere else during the summer months — from when they first come as a young camper to when they join us as staff. We even have a good amount of staff that have met their lifelong partner here and continue the Spring Lake tradition with the next generation!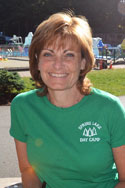 Arlene Liebman, Director
SLDC has been the perfect home for Arlene since she joined our camp family in 1993 and we are delighted to have Arlene as our Director of SLDC this year. Like so many of our campers, her three sons attended SLDC as campers each summer and ultimately became part of our staff for several years.
With a strong professional background in Clinical Social Work, Arlene's many years as a therapist working with families and children gives our camp the opportunity to utilize her expertise with both our staff and campers. Arlene earned an M.S. in Social Work from Columbia University, and worked in a private counseling agency providing individual, marital and family therapy for many years while making the transition to the camping industry.
Arlene began her career at SLDC as Assistant Director of Girls Camp, but after two summers, became Director of Junior Camp which she supervised, developed and expanded for the next 13 years. Arlene brought the traditional "Boogie Walk" to its morning lineup, and created our Junior Camp graduation ceremony, but most importantly, built the foundation for a strong and safe Junior Camp program so that our campers would feel secure while totally loving their first day camp experience.
Arlene took a brief hiatus from 2006 until 2012, working year round as the Director of a Parenting Center for a local YM-YWHA, creating and instructing both educational and social programs for parents with infants and toddlers. We welcomed her back for the summer of 2012 as our camp's Assistant Director, and she has been an integral link to our staff, its hiring, training and supervision, as well as to our parents and campers. It is a natural and smooth transition for both the camp and Arlene and we welcome her leadership at the helm!

Dara Garcia, Assistant Director
"Once a Spring Laker always a Spring Laker!" Our saying could not be more true and so we are absolutely delighted to welcome back Dara to her summer home! Dara started at SLDC in 2005 initially working as a Program Administrator in Junior Camp, quickly becoming a Division Leader, and then becoming the Director of Junior Camp which she had happily overseen for eight years. Dara's strong educational and professional background made her a perfect fit with our little campers. Dara earned a B.A. degree in Sociology and an M.S. degree in Social Studies Education, both from Queens College. She has worked in the education field since 1993, teaching elementary through high school at local schools. Dara's three year hiatus at a YM-YWHA in the tri-state area supervising the Camp, Family, and Youth Department during the school year and its day camp in the summer gave her great administrative experience, reinforcing her strong leadership and communication skills. When Dara started with us in 2005, her two daughters started with her as young campers. They have continued to be with us all these years, in recent years as a counselor and lifeguard, and they, like all of us at SLDC, are happy to have Dara back with us!