Dara Garcia, Assistant Director

"Once a Spring Laker always a Spring Laker!" Our saying could not be more true and so we are absolutely delighted to welcome back Dara to her summer home! Dara started at SLDC in 2005 initially working as a Program Administrator in Junior Camp, quickly becoming a Division Leader, and then becoming the Director of Junior Camp which she had happily overseen for eight years. Dara's strong educational and professional background made her a perfect fit with our little campers. Dara earned a B.A. degree in Sociology and an M.S. degree in Social Studies Education, both from Queens College. She has worked in the education field since 1993, teaching elementary through high school at local schools. Dara's three year hiatus at a YM-YWHA in the tri-state area supervising the Camp, Family, and Youth Department during the school year and its day camp in the summer gave her great administrative experience, reinforcing her strong leadership and communication skills. When Dara started with us in 2005, her two daughters started with her as young campers. They have continued to be with us all these years, in recent years as a counselor and lifeguard, and they, like all of us at SLDC, are happy to have Dara back with us!
Rosemarie Budde – Office Manager/Bookkeeper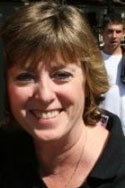 Rosemarie came to us in 2001 with a wealth of administrative office skills along with her then 10 year old daughter, Amanda, who was a camper, counselor, lifeguard and corporate event planner here. Prior to SLDC Rosemarie worked for 28 years as an administrative assistant at a Fortune 500 company. Her knowledge of the business world and dealing with people has made her an invaluable asset to the SLDC team. As our Office Manager and Bookkeeper, parents and staff have spoken with Rosemarie over the years as she is involved with every aspect of the camp. She is also a vital component of our event planning for corporate picnics, and we are fortunate to have her on our year-round office staff.
Alessa Laraia – Division Leader and Transportation Coordinator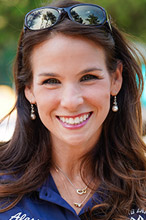 Junior Camp is thrilled to have Alessa back for her 4th amazing summer! Like so many of our SLDC staff, Alessa had gone to camp as a child and thoroughly enjoyed working at SLDC as a Junior Camp counselor for 4 summers before she was married. With her BA in Psychology and her Elementary Education Certification from Ramapo College, Alessa began her teaching career in an elementary school in Ridgefield and ultimately taught in Haskell. Alessa loves being involved with her own children and all of their activities in and out of school. She had longed to return to her summer home for years, and we are happy that Alessa and Junior Camp have been a perfect fit! Her bright smile, energy, love for fun and gentle demeanor is just the thing for our youngest campers to feel right at home!
In our off season, Alessa provides assistance in the main office with enrollment and billing. Her excellent organizational skills also make her a great candidate to serve as our Transportation Coordinator in the Spring, in charge of routing all the SLDC buses prior to the first day of camp. Alessa understands that camp begins when the children are picked up in the morning and ends when they all return safely home at the end of the day. She is dedicated to making sure that every camper's ride to and from camp to be as enjoyable as possible!